Intro
I've found that Onigiri is lacking in its explanations so I'm hoping to supplement that here. I'll try to keep this guide short and feedback is appreciated. Keep in mind that these are the basics so there won't be mention of end-of-content things. Not all of the info on this page is my work. Credits go to the respective info providers. Particularly the wiki admins: PrinterDesu, SupremeTentacle and Ryxa.
ToC:
Quick Guide for New Players
Weapon Types
Skills
Stats
Magatama
Skill Ranks and Skill Force Magatama
Status Screens
Weapon Attack Values
Dealing Damage/Damage Calculations
Party Additional Notes
Other Notes
Weapon Type Images
tl;dr
Quick Guide for New Players
Tanking is not viable in Onigiri -particularly at later levels.
Dealing damage is important, underlevelling is standard, as is being able to carry a full party in hell mode.
Affinity is important since it directly raises your attack. This is why it is necessary to heavily prioritize your main stat.
Stats are very limited. At level 115, you can only, at most, max 2 stats and 76 of a 3rd (however, note that this is not recommended). Also note that the primary stat will take up to around level 80 to max without adding to any other stats.
Skill Force Magatama are generally the most effective method of increasing damage.
Hybriding makes your character weak (in most cases) and is only viable for a section of the game. Do not attempt to hybrid if you don't know about the disadvantages or what magatama you should use.
Further information for newer/starting players can be found here
Weapon Types
Onigiri has 8 weapon types which can be equipped in 4 slots: Axe, Bow, Odachi (Oodachi/Tachi), Spear, Staff, Sword, Twin Sword and Wand (Images are at the end of the post). Some things to note:
Personally, I would rank weapons in terms of how well they are supported with magatama (through quests and bargains) as:
Sword->Axe->Spear->Odachi->Wand->Staff->Twin Swords->Bow
Generally, Pow weapons are well supported.
Dex weapons typically require significant time/OC investment for a decent build -especially bow.
Wand is not recommended for new characters due to SP consumption.
Staff as a main weapon is rare since people can usually do most things that a specialist can do with some stats and one or two staves equipped.
I highly recommend doing sub quests for magatama that are relevant to weapons you are playing.
It's better to Focus on one weapon type, unless you know what you're doing and are aware of the disadvantages.
Having a staff with invigorate on it (gives SP) in one of the 4 slots is helpful for parties. This is usually expected by mid game.
Spear is often suggested as a good weapon because its non-cash shop skills are strong and can be used for a good part of the game.
All weapons can guard except for staff and wand. Wand has a skill called "Evade Warp" which can be used to dodge. Attempting to guard will instead "charge" sp at the cost of durability. Guarding, as with rolling, uses stamina.
The weapon classes with relevant skill force magatama available through Miroku (as long as he is kept within the specific level range -more specifically, negotiation level) have a distinct advantage in terms of ornamentation feasibility (since you don't have to farm the magatama). The following is a list of magatama available through bargains, by weapon type:

-Axe:
Wadatsumi (rank 3+, negotiation 7 -high sf)
Gokuraku (rank 7+, negotiation 8 -not recommended)
Kaisei (rank 8+, negotiation 8 -currently unusable)
Himorogi (rank 9+, negotiation 6 -currently unusable)

-Bow:
None

-Odachi:
Yoake (rank 3+, negotiation 4)
Dusk (rank 6+, negotiation 5)
Kawatare (rank 9+, negotiation 8 -currently unusable)
Hakubo (rank 10+, negotiation 7 -currently unusable)

-Spear:
Sagittarius (rank 3+, negotiation 7)
Aquarius (rank 7+, negotiation 8 -not recommended)

-Staff:
Kousei (rank 2+, negotiation 3)
Reihou (rank 7+, negotiation 5 -a lot of staff skills/ougi don't use skill force so it may be useful for Cure VII)
Doukou (rank 8+, negotiation 6 -currently unusable)

-Sword:
Kougasha (rank 2+, negotiation 2)
Yujyun (rank 2+, negotiation 7 -stronger than Kougasha but with a higher chakra cost)
Amara (rank 6+, negotiation 4)
Fukasetsu (rank 9+, negotiation 7 -currently unusable)
Infinite Spin (rank 9+, negotiation 6 -currently unusable)
Fukasetsu Fukasetsuten (rank 10+, negotiation 8 -currently unusable)

-Twin Sword:
Zhen (rank 7+, negotiation 5 -not recommended)
Shouko (rank 8+, negotiation 6 -currently unusable)
Tankaku (rank 9+, negotiation 8 -currently unusable)
Enku (rank 9+, negotiation 6 -currently unusable)
Kirin (rank 10+, negotiation 7 -currently unusable)

-Wand:
Lord Shokou (rank 3+, negotiation 3)
Lord Soutei (rank 4+, negotiation 4)
Lord Gion (rank 5+, negotiation 8)
Lord Henjyo (rank 7+, negotiation 5 -not recommended)
Lord Byoudou (rank 9+, negotiation 6 -currently unusable)

*Note that negotiation 8 is currently unavailable due to Miroku's level cap.
Whether a weapon is good for aoe or not depends on if you include ougi skills (see Skills).
Typical mobbing potential (without ougi): Spear/Odachi > Wand > Bow > Staff/Sword/TS/Axe
Typical mobbing potential (with ougi): Spear/Odachi > Bow > Wand > Sword/TS > Axe > Staff
Skills
Skills can either be a single attack which requires one click or have multiple components. Multi-component skills will require either holding the click or clicking for every "fire" that appears on the screen.
Durability is typically used per component of a skill and sp is used per execution.
Once the last executed skill component has been initiated (not when it finishes), it will go into cooldown and can't be used until the skill becomes active again. Cooldown Cut will reduce this time by a percentage.
Durability is not used for hits that don't connect (unless it's not meant to eg. Way of the Blade).
Skills will only get "experience" when durability is used.
Currently, some skills do not always consume durability (particularly when rolling after execution). These are typically the ranged offensive skills with a delayed impact after firing.
Only Ougi Skills can be placed in the last two skill slots on weapons. These are mainly available from the Nyankoropon or special events/rewards in which case they are in card form.
Some specific weapons come with ougi but currently none until lvl 85+.
Ougi skills function the same way as common skills but can't be extracted (except with extraction tickets, again, mainly from the Nyankoropon).
Stats
These are already covered in the
Stats Guide
and the [url=onigiri.wikia.com/wiki/Stats]Wiki Stats Page[/url] so I'll only put the main points here.
Stats determine your weapon choice:
-Pow: Axe/Odachi/Sword
-Dex: Bow/Twin Sword
-Mnd: Staff
-Wis: Wand
Focus on your main stat first -This will increase your attack significantly (through weapon affinity).
Aim to hit the 3k affinity cap as soon as you can with affinity magatama etc. Then aim to hit it without them (this will clear up space for different magatama).
Dex arguably has the best stat bonuses (so it's a good secondary stat after you've maxed your main stat -at around lvl 80+ iirc). It gives critical rate, Cooldown Cut, attack speed and increases attack on criticals).
HP is generally not a good reason to increase a stat -everything will one-hit you later.
Mnd determines the skills on a staff you can use, generally ~rank x10 mnd is required
Mnd increases the SP recovered every 7 seconds at every 10 mnd up to 100 mnd. Have at least 10 mnd early on for SP and at least 40 later (for ougi rapid storm V and Ougi Meditation V)
A free stat reset is given at some point (Spoiler), which can reset your character type and return all your spent stats.
Wis gives SP reduction for both Wand and Staff. May be useful for other weapons if you spam lots of staff support skills, but generally, mnd is better (in terms of sp management).
Magatama
Magatama have several types but since there's overlap, I'll only mention their characteristics and uses:
Affinity: these give affinity for (a specific weapon/specific weapons) based on your base affinity from stats. These are what you should be using at the start of the game but switch them out as you start to reach the affinity cap with pure stats. Affinity is capped at 3000 until level 101.
Single Weapon Skill Force (SF): These are your main magatama. They effectively multiply your damage so are better when you have maxed affinity.
Hybrids: these are generally weaker than the standard skill force magatama and have a higher chakra cost:
-Bloody Festival (Axe/ Twins)
-Fake Staff (Staff/Sword)
-Heroic (Odachi/Axe)
-Hunter's (Twins/Bow)
-Log (Spear/Wand)
-Magic (Wand/Staff)
-Pressure Point (Bow/Spear)
-Ronin (Sword/ Odachi)
-Others (all weapon types or 4 types -for the current content)
Elements: Both Enemy Skills and Player Skills are composed of elements (check the wiki if you want to see the %'s for player skills). Eg. Crimson Cross Cut is 70% fire so adding fire element+20 will increase your

total

damage by 14% (on a neutral enemy). Full calculation below in the "Dealing Damage/Damage Calculations" section.
Cooldown Reduction/Cut: Reduces the minimum time between repeating skill slots by a % of the total time. These are mainly for skill levelling. Cooldown Cut is capped at 80.
P. Atk Spd: Good for skill levelling once you've gotten enough cooldown and have enough weapons with the skill that more cool down won't help -assuming you don't need sp reduction magatama.
Miscellaneous: Have various effects
Defence: Useful early on but a waste of a slot when you're at a higher level and need to deal more damage.
Notable specific magatama(non-main sf magatama):
-Burai: Attack+15%, HP+400, increases durability consumption by 30%. Craftable.
-Clear & Serene: Pow +14, Dex +12, Vit +4. Can give a decent affinity boost (through stats) early on as well as other stat bonuses. Available through a Kyoto Subquest or crafting.
-Chiami: Recovers 3% of your critical damage as HP.
-Setsuna: 60% SF for all weapons (rank 6+) and crit rate+5 (can only be gotten once from Aramitama)
-Idezumi: SP reduction (when hp>70 or 90), not useful for damage, but can be used for skill levelling, low level dungeons, etc.
-Kanmon: Base Ryou gain+25%. Again, not for dealing damage.
-Grasshopper: Craftable, so it's easy to ornament. Can be used instead of skill force magatama for steal attack which is 100% slice and limited to rank 3.
-Literature: Spear SF+90%, and craftable. Don't waste the Kyoto subquest Red-Purple Magatama if you're making this.
-Amber: A defence magatama you get given at Kyoto with 1k defence, a big step up from previous ones.
-Mushiro: Attack+200, craftable.
-Reckless: P. Atk Spd+10, Attack+850, doubles durability usage. Craftable.
Magatama may be obtained through
Miroku's Bargains and Shop
, dungeons from any mob in hard or hell difficulty (typically depends more on the youkai's level rather than the dungeon), some chests (none near the start of the game), crafting or quests.
Skill Ranks and Skill Force Magatama
There appears to be some misconceptions about the ranks of skill force magatama so I'll add a brief guide here:
Skill Force Magatama have ranks they apply to. eg. rank 4+ will affect skills of rank IV or higher but won't affect I, II or III.
Generally, the higher the rank, the stronger the additional skill force and the higher the chakra cost. There are exceptions.
Anything higher than 6+ is generally considered useless as equipment since there aren't any ougi higher than rank VI in the current content.
Use magatama with skill force of ranks that you actually use. The most common ones (not including any magatama with a lvl 100+ required level) are for ranks 5+ and 6+ (whichever is your lowest ougi skill rank) but these are useless to you if you're mainly using rank III and IV skills.
For specific magatama suggestions, refer to the guide on your chosen weapon type
Status Screens
(May need to open in a new tab)
Firstly, I'm not suggesting these stats.
*1, This adds to the base attack, ie. before any "attack +x%".
*2, Flight Element is not used for any skills but some enemies have resistance to it, so... ignore it.
Crit Force is a multiplier for criticals and 170 is the base value.
HP recovery increases the hp recovered every few seconds
SP recovery refers to the efficiency of charging a staff/wand
Movement Speed can be increased with the staff skills:
-Ougi Rapid Storm(self and/or surrounding players depending on player density)
-Itaden's Grace/God Speed (target)
Or
-Moon King Liquor (self)
The Skill Force Rank Divisions aren't set out well, but that's how they're divided.
When titles are equipped, the stats are included under equipment bonuses
Weapon Attack Values
Weapon Attack values depend on the weapon class, grade, rarity and level.
Higher grades can be achieved through levelling Shizuka (for id'ing) and Yoshitsune (for smithing), though both depend on RNG. Grade can also be increased during smelting for a total of +54 (+6x9, note that options become more expensive with higher smelts i.e. a high starting grade is desired).
Grade Powder can also be used to increase the grade of an equipped weapon.
Rarity and grade are not important for the first ~20 levels since most damage will come from affinity and weapon level.
Weapons typically have a 5 level range such that weapons of similar rarity are close in attack values for the same level (after enhancing). It is best to use a weapons that has the max level as displayed on the wiki. Smithed weapons don't have level ranges.
Higher rarities become crucial at higher levels since the rarity affects the attack values, enhancement values and smelting attack bonuses (though these bonuses also depends on RNG). I strongly suggest checking the wiki weapon pages for the weapons you'll be using. Details here.
Weapons of higher rarity and level have higher repair costs.
In order, weapon rarities from high to low are: Gold, Red, Blue, Standard ("White") and Unenhanceable ("Grey", often unrepairable).
Dealing Damage/Damage Calculations
Damage calculations in Onigiri are a little more complicated than this, but this section should roughly have how damage is calculated and how damage can be increased effectively.
Damage calculations roughly work as follows:
Damage = (Attack (Modified by other things))*(Skill Force)*(Elements)*(Element Resistances)*(Bonuses)
Attack uses the same "Attack" values from the stat screen, but it has a few things that players have no/little control over (such as enemy defence, multihit etc.). It should be noted, however, that increasing Attack will significantly increase damage.
Skill Force is fairly self explanatory. It multiplies the affected skills' skill forces.
Element and Element Resistances are calculations are as follows:
This is assuming that a skill is composed of two parts (check the wiki for the percentages).
Multiplier =
(Element 1 percentage)/100 x (100 + Element 1 Bonuses (as shown on the stat screen))/100 * (100 - Element 1 Enemy Resistance)/100
+
(Element 2 percentage)/100 x (100 + Element 2 Bonuses (as shown on the stat screen))/100 * (100 - Element 2 Enemy Resistance)/100
Enemy Resistances do not have much of an effect early on, but eventually start to play a significant role. Assume that "Very Weak" weaknesses multiply damage by somewhere between 1.3 and 1.7.
Bonuses are things such as criticals, western weapon bonuses, back attack, etc. Note that they all act on the base damage rather than multiplying in sequence.
To deal significant damage, the recommendations are as follows:
-Attack -as high as possible
-Magatama -Affinity until capped or close to 3000, then, skill force magatama. Skill Force Magatama are good because a high multiplier can easily be stacked with them. Either 3 skill force magatama and a Chiami (for hp) or 4 skill force magatama should be used mid game (either ~+150% or ~+200% skill force -actual values depend on the selected weapon type).
-Ornaments -See "Magatama ornamenting" in "Other Notes" Below.
-Elements and/or resistances can be more or less ignored for most weapon types until bosses start getting large amounts of hp.

Party Additional Notes
This is in addition to the guide on the main website.
Party Size typically affects youkai levels (which affects magatama drops), youkai quantity and recipe drop chances and also greatly increases xp.
It does not matter if all members are in the dungeon or not. This is why there are afk parties and parties looking for fillers.
Non-killing party members receive between 0.5 (2 man party) and 0.3 (5 man party) times the xp of the killer (at the same level).
Players cannot enter a dungeon if you've entered before they have joined.
Reentering:
-As long as there is a member in your party inside a dungeon, you can exit, then reenter.
-You can leave the dungeon by dying and selecting "give up" or using the "leave dungeon" option.
-Reentering clears the current exp pool, but does not affect your rank. In effect, for dungeons that have one boss and nothing else, you can reenter infinite times and still maintain an SS rank without losing xp.
-You may need to rewatch cutscenes if you're currently clearing the storyline.
-When you exit a dungeon, you will be able to reenter after 3 seconds. The portal will not open until then. This is not affected by whether you move forwards or not.
Items will only drop for players in the same room as the killed youkai, but for xp, players only need to be in the same dungeon.
When opening chests, only players in the room will receive the drops. If a player is using Steal Attack, it will only affect the user.
Other Notes
Damage reduction

: Damage can be reduced through guarding, defence and elements. Guarding reduces damage by a given percentage -spear give 95% damage reduction which is the cap. Defence can be helpful early on but does little at higher levels. Adding the same element as an enemy's attack becomes much more effective since this also acts as a percentage.

Drop rate variances

: Fields and Challenges typically have lower drop rates compared to their dungeon equivalent. Drop rates also tend to be higher with larger parties and dungeon modes. chests are an exception and have equal rates for any mode. Youkai specific item rates only depend on mode.

Eating and Drinking

: Food assigned to shortcuts can be taken while running, however, it is easily cancelable by mistake. This can be prevented by autorunning, running in a single direction, or stopping completely while taking the food. Alcohol can be taken at any time (including when you're collapsing after getting killed) and potions (not food) can be taken without disrupting movement.

Energy

: Some dungeons require "energy" to be able to enter. Energy replenishes by one every hour. The energy cap is your level divided by 10, rounded down.

Fever

: Fever is a GM triggered event where a fever icon is added near the login boost icon area displaying increases in exp, drop rates and ryou rates. It is triggered on weekends (occasionally) and lasts the duration of that weekend, however, sometimes a shorter duration is used for events and event rewards. Fever affects all players at the same time. If fever is announced and you don't see the icon, restart the game.

Field Bosses

: Up to 3 Field Bosses (as far as I've seen) spawn in Kikaigahara, Oosumi Plains (any), Izumo, Sekigahara (and the closely-related-area). They give a large number of drops including ryou boxes, magatama and friendship items to anyone who participates and a large amount of xp to anyone (or any party) that kills it. It usually requires a higher level player to kill them since they have large amounts of hp and also deal a lot of damage but they can often be trapped behind boulders, fences or platforms etc. Wiki Link (minor spoiler)

Finding things

: Enemies can be found using a ranged skill with auto-targeting and characters can be found using a ranged support skill. This is particularly helpful for finding mukade or GM's during hide 'n' seek events.

Friendship item drop rates

: These typically drop for dungeons anywhere above 10 lvls under your current level. If you're not getting many, try a higher level dungeon/mode, or a dungeon with more youkai -or increase the youkai quantity with an afk party/larger party.

Goldaruma

: When your party or your character (if you're soloing) are close to the dungeon level, goldaruma may occasionally spawn. These are weak to poison with the easiest way to kill them regardless of your build being poison cloud, on wands. Here's a guide and here's some info.

Just Guard

: When you guard an attack with little delay between guarding and getting hit, a "just guard" is performed. This will increase the speed of your next attack provided you execute it soon after (you usually have enough time to switch weapon) and will cause all "just guarded" hits to deal 0 damage. Additionally, it does not drain stamina and instantly gives enough additional SP for most skills. It has been tweaked to make projectiles easier to "just guard".

Leaving a dungeon

: Use the menu and use "leave dungeon" in the top right corner. If you've already finished the dungeon you won't lose xp since you've already gotten the pool exp. Some dungeons have empty rooms before the exit so at least do this when you're running a dungeon in a party so your party doesn't have to wait for you to exit.

Lucky Boxes

: When a youkai that is not far below your level is killed, it has a chance to drop a Lucky Box. It will not drop if a party member has killed it.

Magatama ornamenting

: When ornamenting magatama, consider how many you'll need before trying riskier ornaments. Elemental builds (eg. "wind builds") typically refer to heavenly shield ornaments and are strong for specific skills, but are usually risky. Some other relatively safer ornaments are fated contractor and confining terror (the former usually being considered better). This is just a general guide that fits for most weapons, you're better off picking ornaments from those available carefully. Also note that riskier magatama ornaments can shatter the magatama. In my experience, anything approaching the 50% mark has a high chance of destroying the magatama.

Miroku Bargain Mechanics

: Miroku has a range of things he can give in bargains for his negotiation level but he doesn't give all of them. Instead (from what I've observed) he picks out 3 rows of things from the available list and cycles through them: [1 type of material (2 per cycle), 1 type of weapon (2 per cycle), 1 type of magatama (1 per cycle) and 1 type of consumable (food, friendship items, soul egg) (3 per cycle)] x3 (one for each bargain row -so you effectively get 8 specific sets of items (with repeats)). If you're not getting the item you want, you'll need to "reshuffle" the bargains by buying all three items.

Move to Resurrection point

: Through the exit menu, you can warp to the resurrection point (which is usually the entrance to the area going by the storyline) and so this can be used for quick movement. It can also be used if you ever get stuck.

Multi Character Bonus

: When an account has multiple level 50 or level 100 characters, all characters on the account are awarded bonuses. Details here

Resurrection

: A staff skill that was available for the New Year Nyankoropon (or so I'm told). Resurrects a player at a slight dungeon pool exp bonus penalty (same penalty for any amount of resurrections). You can now only get it by buying it off old players.

Sake

: Some recommendations for Sake (in no particular order) are: Chidori (Cooldown Reduction), Moon king (Movement Speed Up), Benten's Blessing/Moth Orchid (Survive one hit -can be used together), P. Atk/ M. Atk up (check the wiki for the sake and the values), Asuka (Atk Speed Up -only for skill levelling)

Skill Card 1

:The following skills are only from skill card 1 (Nyankoropon) and can only be evolved (once) through smelting:

Sword: Coin Explosion II
Tachi: Shining Potential II
Axe: Weapon's Spirit III
Spear: Card Captor II
Twin Swords: Steal Attack II
Bow: J'e Taime II
Wand: Blasting Noise II
Staff: Super Sushi Time III
Triple Lunge step

: Having three lunge steps on a sword, commonly ranks 2,3,4 through carding (using extracted or otherwise obtained skill cards), can be used to travel distances quickly. It can also be done with Twin Swords or Spears but Swords are the fastest. Recommended swords: Light Saber (P. Atk Spd+13) or Ichimonji Seirai (P. Atk Spd+20).

Triple rank 5 skills

: A weapon with 3 rank 5 skills can be made through a combination of skill cards (or using a desirable base weapon) and skill evolution V (in smelting). This can also be used in conjunction with Nyankoropon Skill cards for more specialized skill choices.

Reviving

: When you revive, you're given 3 seconds in which you can't be hit. This is often a good chance to use liquor, food or skills (limited by the revival method).

Weapon-Switchable skills

: Some skills which give effects (such as Fierce God's Focus, Way of the " ", Back Strike) can be executed, then switched with a different weapon while maintaining their effects -even with different weapon types. Similarly, Energy Ball and Sanctuary, Staff skills, can gain increased effects by switching weapons since they use the attack of the currently equipped weapon for calculations.
Weapon Type Images
The images are taken from the wiki. They are random weapons from each weapon type and I am in no way suggesting any.
Axe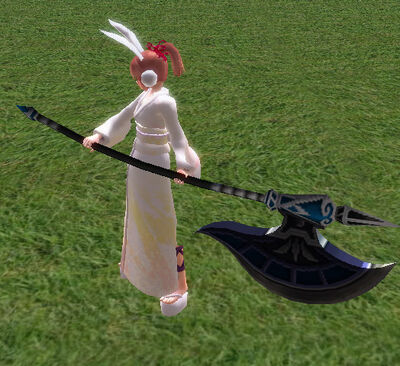 Bow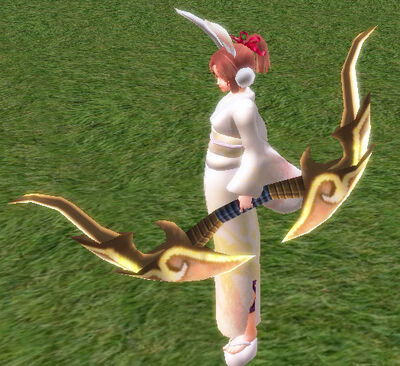 Odachi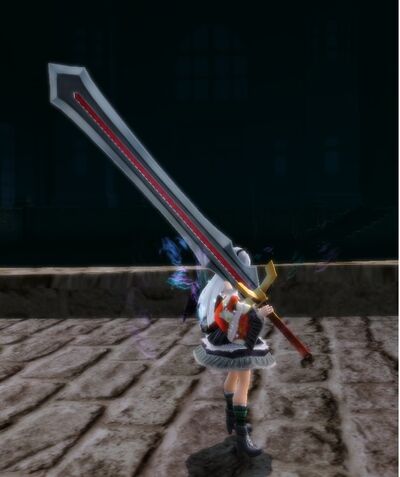 Spear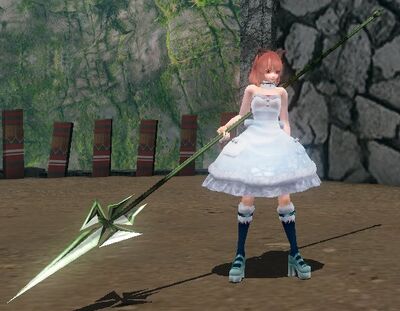 Staff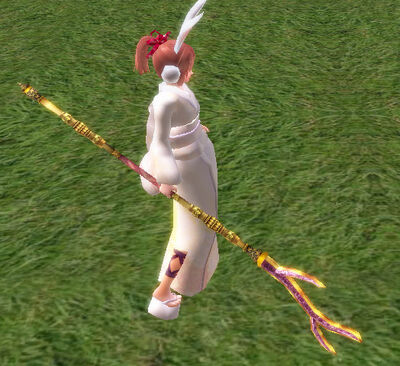 Sword
Twin Sword
Wand
tl;dr
Pick a weapon, max your affinity, use skill force magatama.
Edit: Added info to Field boss notes
Edit 2: Added "Guide" to the topic
Edit 3: Added Axe as a weapon type -.-" and added info on just guards.
Edit 4: Added random Axe image
Edit 5: Added Just Guard SP and stamina info, format changes for consistency, wording corrections, skill info, magatama attainment info and corrected the mnd requirement for Rapid Storm
Edit 6: Fixed Miroku link
Edit 7: Changed AoE ranges to mobbing potential, changed non-durability cases and added notable magatama ornaments.
Edit 8: Removed notable magatama ornaments since these probably don't count as "basics". I'll see if I can include some notes on them later.
Edit 9: Added Party Additional Notes, changed Weapon Rarity section to Weapon Attack Values and made some minor wording changes.
Edit 10: Notes on fever, friendship items, drop rates, Miroku bargains, goldaruma, energy ball trick, auto-aim for finding things and basic ornaments. Decided against stat resetting -for now (removed comment).
Edit 11: Forgot to add energy ball as a weapon switching skill -changed.
Edit 12: Finished the goldaruma sentence -lol, added a section of skill force magatama ranks.
Edit 13: Fixed some wording/typos. Minor additions and corrections.
Edit 14: Added a note on energy and a list of magatama available through bargains.
Edit 15: Reordered Bargain Magatama list.
Edit 16: Minor corrections.
Edit 17: Ranked weapons by quest/bargain relevance, added Clear & Serene to notable magatama.
Edit 18: Minor wording correction.
Edit 19: Removed Mercury Ore note, Added Burai. Removed the note about Miroku since it's repeated info. Added info on Miroku's Bargain Mechanics.
Edit 20: Linked most things. I haven't checked all the links so LMK if any are incorrect. Added Sake Recommendations.
Edit 21: Changed Demonic Resonance to Multi Character Bonus. Added Lucky Boxes, Damage Reduction and a very basic New Player Guide. Some formatting/wording changes.
Edit 22: Wording changes, Rearranged "Other" notes, minor additions/changes. Added a "Dealing Damage/Damage Calculations" Section.