Greetings from the Onigiri Management Team,
In this update, we are happy to release a new redux event and some minor fixes to the game!
Update Contents
Sanzou Redux Event
Sanzou needs your help in her redux dungeon! You can speak with her in Onigashima to begin this event.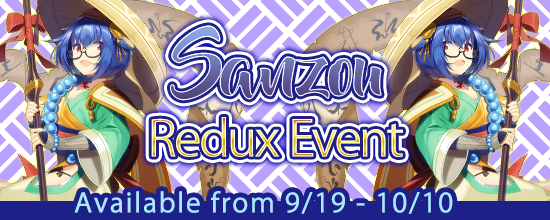 Event Considerations
- The drop rate will not be affected by item or equipment effects, set Fever Time, or boosts.
- The difference between an player and a monster's levels will not affect the drop.
- Enemies defeated by party members will not drop items.
- Monsters summoned by other monsters will not drop items.
Event Duration
Available 9/19 - 10/10
Events and Campaigns
We would like to introduce the Midsummer OC Campaign that will help you get special bonus items with your cumulative OC purchases available from 9/12 - 10/10.
Unlike previous campaigns, you will be getting an additional package of prizes for your first purchase!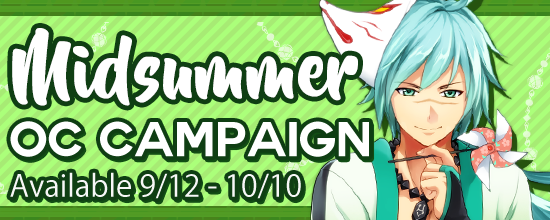 We also have a special [url]
Discounted Nyankoropon
[/url] available from 9/12 - 10/10.
The
Yog-Sothoth redux event
will be running from 9/12 - 9/10!* Now is your chance to get some rare items you might have missed out on before!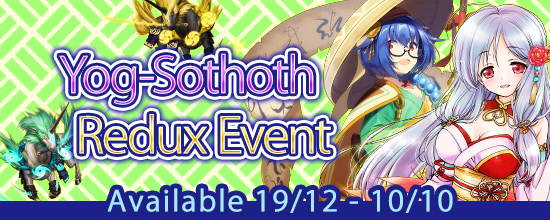 Patched Issues
- The Spirit Medium (Kinka Mei) has now been added to Onigashim so you can try Hideyoshi!
- The Yog-Sothoth event will now be running from 9/12 - 10/10. We sincerely apologize for misinforming players in our previous post.
- Nobunaga's Tenma skill descriptions have been updated so they now display correctly.
- Corrected name of unidentified weapons in the Mine of Boukyaku.
We thank you for your continued support,
-- The Onigiri Team