Greetings from the Onigiri Management Team,
In this update, we have made some minor adjustments and added some new options to the game.
Update Contents
Yorozu Exchange
For the first time ever, if you talk to the Yorozu Exchange in Onigashima, you now have the option to exchange
170 Yorozu Tickets
for a partner, mount, or assist character scroll of your choice!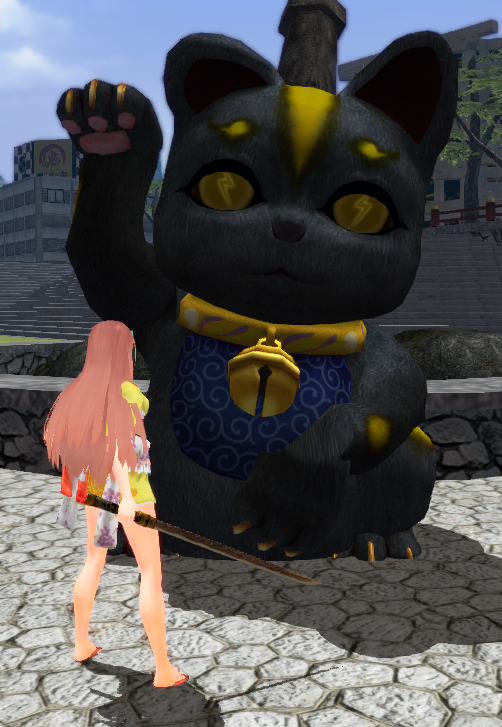 You can obtain the Yorozu Tickets from Units 1 and 2 from the Special Nyankoropon! We hope you enjoy this new option!
Events and Campaigns
We would like to introduce the
Midsummer OC Campaign
that will help you get special bonus items with your cumulative OC purchases available from 9/12 - 10/10.
Unlike previous campaigns, you will be getting an additional package of prizes for your first purchase!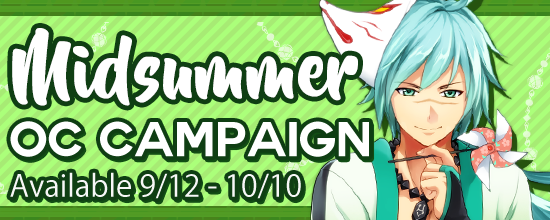 We also have a special
Discounted Nyankoropon
available from 9/12 - 10/10.
The
Yog-Sothoth redux event
will be running from 9/12 - 10/10! Now is your chance to get some rare items you might have missed out on before!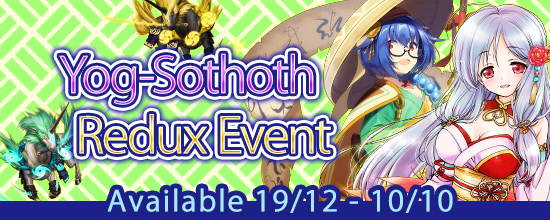 Sanzou's Redux Event has now been added to the game! You can speak with her in Onigashima to begin this event.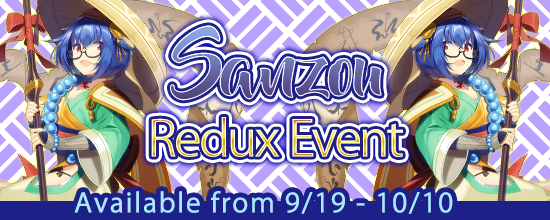 Patched Issues & Fixes
- The random level generator on identified weapons has now been removed and all weapons will be identified at their maximum level.
- The outfit "Gothic Suit" has been modified for the following body types: Average Body Male, Young Boy, Slender Male.
- The bug that prevented players from being unable to change to weapon slots where they removed a weapon has been repaired.
- Previously there was a bug where all graphics options could become turned on, but this has now been fixed.
- The bug that caused the effects of following items not to be activated has now been repaired. You may also notice a slight change in the animation when using the items with your character:
Lady Shizuka's Strawberry Chocolate
Yoshitsune's Raisin Chocolate
Miroku's Lollipop
Ibaraki Douji's Bitter Chocolate
Momotarou's Peach Candy
Kaguya's Character Chocolate
Susanoo's Kinako Candy
Amaterasu's Milk Chocolate
Chocolates Made With Love
We thank you for your continued support,
-- The Onigiri Team