Players,
Maintenance has been completed and you may now resume exploring the world of Onigiri.
The Dragon Ark Gakuhou warding bug has been repaired, so the dungeon is open for business! Where are you sitting on the rankings?
With the reopening of Gakuhou, Dragon Ark Tenshou has also been made available!
Tenshou is aimed at players from level 70 and above, and like his predecessors has made his home in a distant castle... Defeating him will yield powerful new weapons for Yoshitsune to smith.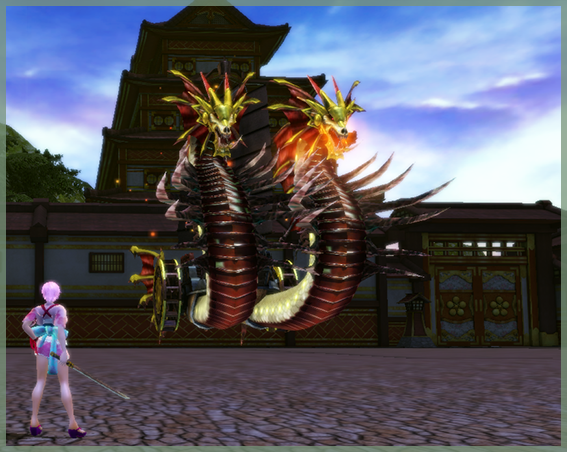 Thanks to everyone's efforts, Gennai's lab has settled down a little bit but it seems as though the technology has spread further than she intended! From the lands of Eternal Night comes a mysterious Arms Dealer and his Puppet! Starting from level 120, this warding is a challenge straight from the darkness itself.
This week we're also proud to introduce the Point system! Speaking to the Point Daruma in Onigashima will give you access to his store, and his new trading system.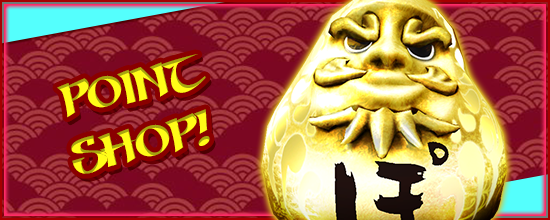 It's a great way to get rid of items you've accumulated in dungeons and get a little something back, but be careful as your accumulated points will only last until 12am Monday morning every week before they restart.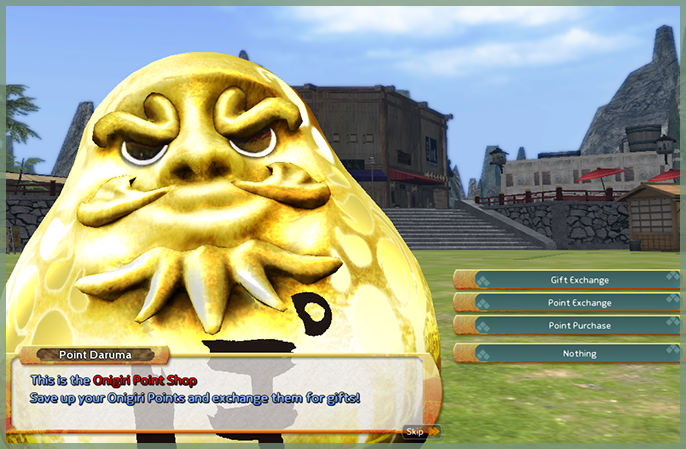 While speaking to the Daruma, you have the option to
Purchase Points
with your OC, convert items you've found for points in
Point Exchange
and finally get new items (while stock lasts) in the
Gift Exchange
.
Checking out what the point Daruma has up for grabs will reveal a new summoning ticket - the Kijimuna Maiden!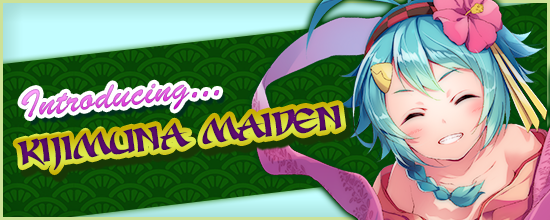 There are three basic types of new summon, so let's break them down:

New Summon Types:
* Token
- Is a 100% chance of summoning the Kijimuna Maiden (normal)
* Princess
- High chance to summon the new (and chatty) Rare Kijimuna (Floral Head Piece)
- Medium chance of summoning Kijimuna Maiden (Normal)
* Emperess
- Will only summon a "human form" Kijimuna:
- Kijimuna Maiden (Normal)
- Rare Kijimuna Maiden (Rare Appearance!)
Pictured below is the Normal Kijimuna Maiden.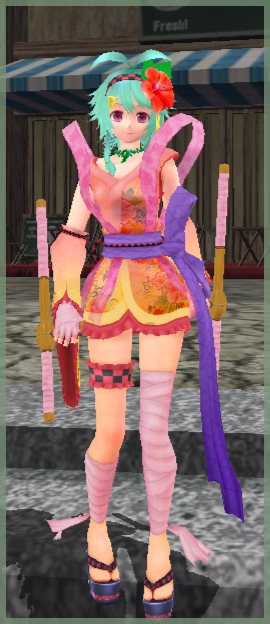 Lastly:
The compensation package for the recent game
balancing update
has been sent out:
Compensation Package:
* Status Point Reset x1
* Skill Set Card 7 x5
* Gacha Ticket x2
* Smelting Reset Button A x1
* Smelting Amulet Great Fortune x1
* Smelting Amulet Superb Fortune x1
* Magatama Slot Aid A x1
* Ornamentation Amulet Great Fortune x1
* Ornamentation Amulet Superb Fortune x1
We have also sent you an additional present - you'll have to have a look and see what it is though! (Hint: it's not an "it", it's a "she") ... Yup! We have sent out a complimentary Kijimuna Ticket!
We thank you in advance for your patience and for your continued support,
The Onigiri Team