Gargoyle Event
Gargoyle's event has now been added to the game, and you can start it at any level by talking to her and Ashiya Douman in Onigashima!
It seems that Gargoyle is having a craving for udon, so it's up to you to collect the
Heavenly Seven Spice
to help feed her!
After activating this quest, this drop will appear in all wardings
except the EXP Ticket dungeons
until maintenance on the
2/28
.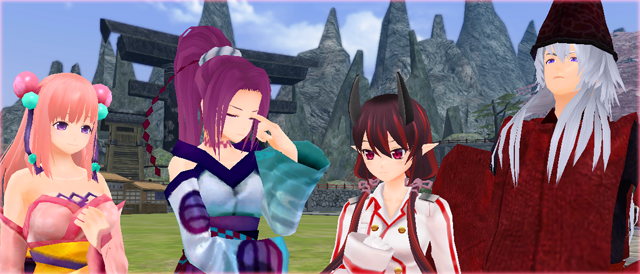 As a thank-you present, she has prepared a Treasure Chest Nyankoropon that you can spin with these spices to win rare items!
Treasure Chest Nyankoropon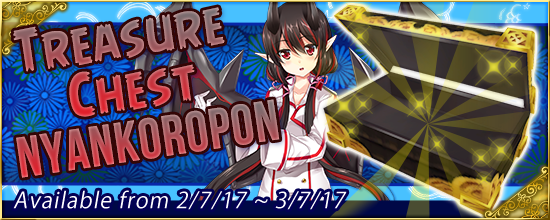 By talking to Gargoyle in Onigashima, you can use the
Heavenly Seven Spice
that you have collected to roll for items. However, remember this is a limited time drop!
The
Heavenly Seven Spice
will only drop
until maintenance on the 2/28
.
There are a total of 200 prizes, and the remaining number of a prize will display below its name: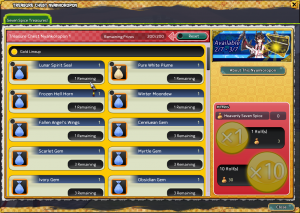 Gold Lineup:
Lunar Spirit Seal (1), Frozen Hell Horn (1), Fallen Angel's Wings (1), Scarlet Gem (3), Ivory Gem (3), Pure White Plume (1), Winter Moondew (1), Cereluean Gem (3), Myrtle Gem (3), Obsidian Gem (3)
Silver Lineup:
Artisan's Treasure Sword (2), Smelting Amulet Superb Fortune (3), EXP Boost +100% (60 Min) (2), Drop Boost +100% (60 Min) (2), Ryou Boost +100% (60 Min), Silver Kompeitou (3), Hihiirokane Cudgel (3), Ornamentation Amulet Superb Fortune (3), Max Durability +50 Ticket (2), Zenith Medal Set Box 1 (3)
Red Lineup:
Fortitude Stone (2), Inferno Stone (2), Thunder Stone (2), Dark Stone (2), Piercing Stone (2), Aidama (2), Miracle Stone (2), Ice Stone (2), Light Stone (2), Cutting Stone (2), Crushing Horn Stone (2), 1,000,000 Ryou Chest (3)
Green Lineup:
Sigil of Floating Thorns (4), Seedling of Calamity (4), Heaven and Earth Dregs (4), Huge Gold Club (4), Lively Bulb (4), Armored Territory (4), Quiet Zeal (4), Blue Flame Lantern (4), Burning Water (4), Cults of Ghouls (4), Reversed Compass (5), Gray Apple (5), Silk Bag, Bell of the Curse God (5), Hardy Daikon (5), Maple Leaf (5)
Blue Lineup:
Golden Helm Fragment (5), Hand Crafted Makeup (5), Crimson Scale (5), Diseased Seedling (5), Black Moth Scales (5), Red Sale (5), Ornate Handle (5), Spirit Mirror Shard (5), Metal Gear (5), Crest Fragment (5), Friendship Komainu (5), Friendship Beckoning Cat (5)
When prizes reach 0, you can hit the "Reset" button for a total of 4 times during this period to replenish them. Items not completely depleted will not have their remainder added to the next line-up.
The Seven Spice Treasures tab of the Treasure Chest Nyankoropon will be available for 4 weeks from 2/7 - 3/7.
Campaigns
Our
latest Winter OC Campaign
will run from 1/17 - 2/14 with bonus items for your OC purchases!
Notes
- The
EXP Ticket III description
has now been fixed.
- Present Box has been chagned, please read more
here
.
We thank you in advance for your patience and for your continued support,
-- The Onigiri Team