Greetings from the Onigiri Management Team,
Maintenance is now over, and we have updated the Limited Nyankoropon which will be available until 4/4!
Items obtained from the Limited Nyankoropon include a
Yorozu Limited Ticket
which can be exchanged with Yorozu for a Legendary Gacha Ticket if you have 75.
Limited Nyankoropon
In the Special Gacha, Nobunaga, Kintoki, and Izuna Tri-Tail have been added to the Platinum Lineup:
Additionally, Sanzou has been re-added to the Gold Lineup along with the Sublime Ougis:
Please see our
Setsubun update post
for the rest of the Nyankoropon lineup!
Events and Campaigns
Our
Setsubun Special Event Dunegons
will be running from 3/14 - 4/4!
The item exchange shop will be open until 4/11.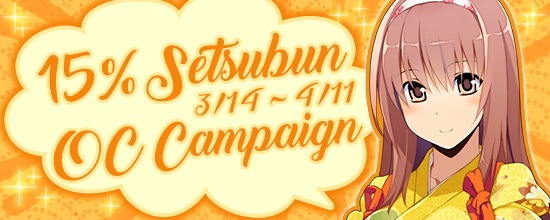 Our
15% Bonus OC Campaign
will be running from 3/14 - 4/11 to give you bonus OC for purchases of 100 OC or higher!
We thank you in advance for your patience and for your continued support,
-- The Onigiri Team