Greetings from the Onigiri Management Team,
Maintenance is now over, and we have added the White Day event to the game, as well as some minor adjustments!
White Day Event
In Japan, "White Day" is a special holiday where guys that have received chocolate from girls on Valentine's Day return the favor by giving them a special gift!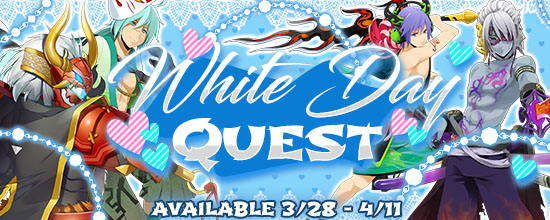 For male characters you'll be able to start things off by talking to Otoka in Onigashima. He'll let you in on a little secret... The "Nirvana Candy" found in The Wardings would make the perfect present for the gals who spoiled you on Valentine's (if you're feeling forgetful, he'll also remind you who gave them to you, Romeo).
For the girls, simply talk to the fellas who you gave Seven Spice to during our Valentine's event to see what they've got for you. Pro-tip: Susanoo, Miroku, Shingen and Momotarou were all around for that one!
Please note that these quests are only available until maintenance on 4/11 and there are a few points to remember!
- The drop rate of "Nirvana Candy" is not affected by boost related buffs.
- The difference in level between player and enemy will
not affect
if the candy drops or not.
- If you're questing as a party (how romantic!) the candy will drop even when another party member defeats an enemy.
- The candy will
not
drop from monsters summoned by another enemy.
Remember, this is about returning the favour so you may only accept and complete these quests if you previously completed the Valentine's Day quests.
Events and Campaigns
Our
Setsubun Special Event Dunegon
s will be ongoing until 4/4!
The item exchange shop will be open until 4/11.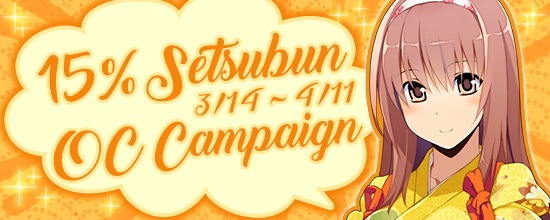 Our
15% Bonus OC Campaign
will be running from 3/14 - 4/11 to give you bonus OC for purchases of 100 OC or higher!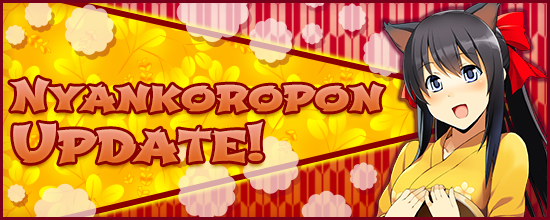 Check out our current
Nyankoropon Lineup
!
Notes
- In the Setsubun Event dungeons, the bug that was causing vanguard gauges not to charge has now been fixed.
- Fixed the bug which caused the The Knight of Flies Magatama and Mukade Magatama to drop after their event had finished.
We thank you in advance for your patience and for your continued support,
-- The Onigiri Team