Greetings from the Onigiri Management Team,
Maintenance is now over, and we have added the 3 Sisters from the Cosmic Crux to the Nyankoropon, as well as sent a
special Easter Present
to your Present Box!
To further celebrate the Easter Holiday, we are running a Nyankoropon Discount and setting
Fever Tim
e this weekend!
Introducing the 3 Sisters
Hailing from a place known as the "Cosmic Crux", 3 charismatic sisters Asuka, Chihiro, and Matoi have arrived in Onigashima!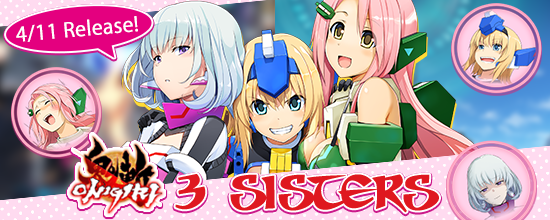 A flamewar in an online game appears to have brought them from the depths of space to Feudal Japan, but what kind of girls are they?!
By talking to each of the girls, you can play with them as a partner and test their abilities through Vanguard Swap in a test dungeon.
They will available in the Nyankoropon until
5/9
, and will have a new event starting next week on
4/18
!
Special Easter Present
It's Easter in Onigashima! If you have logged in between March 1st until before this maintenance, you will notice that there is pair of Easter Bunny Ears in your present box as a gift from us!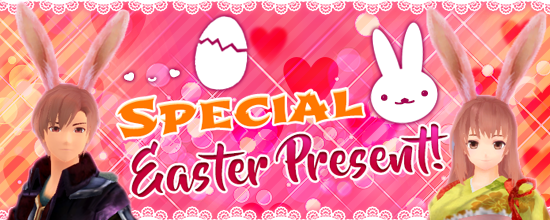 You can equip them to your character as a head piece. Please note that you can only accept them on one of your characters, and that they will expire after Easter at midnight on Monday, 4/17 at 12:00am PDT.
As an added bonus, we will also have
Fever Time
running this weekend from 4/15-4/16 at 75%! You can thank the Easter Bunny of CyberStep!
Nyankoropon Update
This holiday we are running an Easter Gacha for one week, as well as a discounted Nyankoropon!
We have special animal outfits to get you in the Easter Spirit, the 3 sisters newly available as partners, and much more!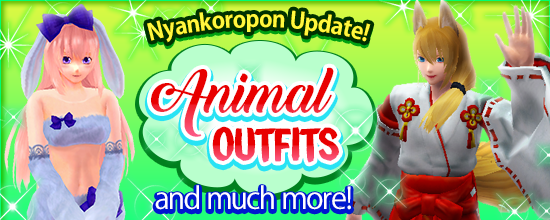 Nyankoropon Discount
Units 1 and 2 of the Special Gacha will offer you a special discount for a maximum of 25 spins (per character)! Spinning 5 times will now cost 120 OC instead of 160!
After 25 spins you will not be able to spin it any longer. Please take advantage of this special deal!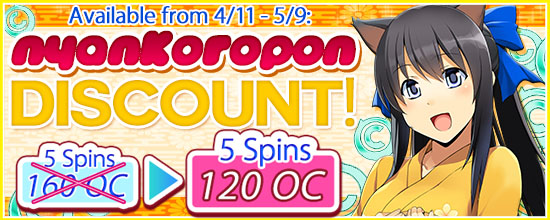 Unit 1: Special Easter Gacha until 4/18
This Gacha can be spun discounted at 120 OC for a maximum of 25 spins and includes special Easter outfits in the gold tier!
Platinum Lineup: Lancelot, Valkyrie, Kirin, Asura, Shuuten Douji and these special outfits:
All tiers come with a Yorozu Limited Ticket, which you can exchange for a Legendary Gacha Ticket if you have 75.
Unit 02: Discounted Nyankoropon until 5/9
This Gacha can be spun discounted at 120 OC for 25 spins! (all tiers come with Yorozu Limited Ticket as well)!
Platinum Lineup: The 3 Sisters with an increased win rate.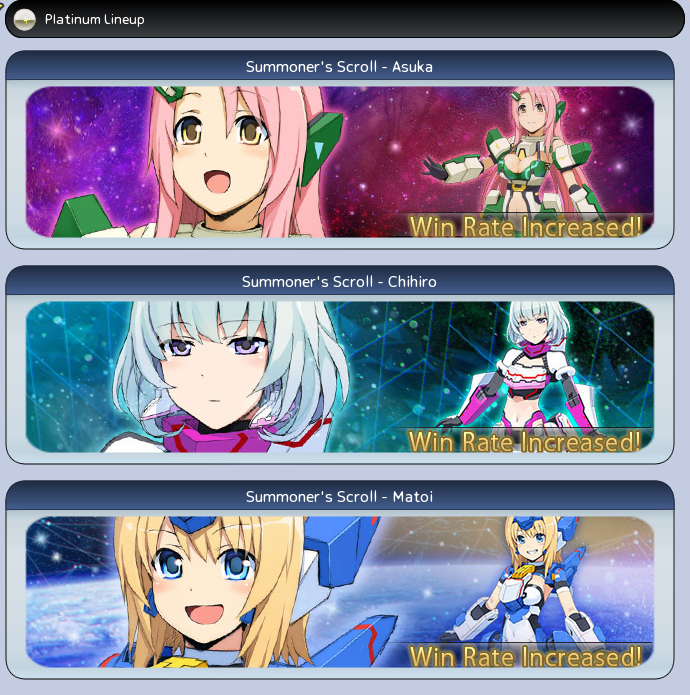 *Ivys is included with an increased win rate as well!
Gold: Sanzou and all Sublime Ougis
Normal Gacha
In the Normal Gacha, you will find animal outfits as well as other fan favorites! The first 2 Tiers are Premium, and can be spun with Premium Gacha Tickets obtained from our Cosmic OC Campaign.
The Platinum Tier gives you a Platinum Tickets with a partner, and Gold Tiers include SP Gacha Tickets with outfits and Sanzou. The lower tiers included torn SP Gacha Ticket Pieces.
Campaigns
In addition to our discounted Nyankoropon, we also have a
Cosmic OC Campaign
running from 4/11 - 5/9:
Notes
- The Setsubun and White Day events have now ended.
- All "Lmt" and boost items have now expired and been removed from the game.
We thank you in advance for your patience and for your continued support,
-- The Onigiri Team