Greetings from the Onigiri Management Team,
Today's maintenance is as follows. We have added a new Redux Dungeon as well as an Event Login Calendar that will help you spin the newly introduced Mega Nyan!
Please don't forget to take part in our
popularity contest
! Simply vote for your favourite 3 characters to receive a Legendary Nyankoropon ticket!
Update Contents
Kojirou Redux Event
For a limited time only from 6/20 - 7/4, Kojirou's dungeon will be re-opened for challenge!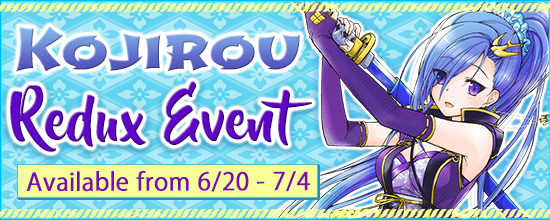 In Onigashima, Kojirou and Command Genkei have now appeared! By talking to them, you can access the event dungeon.
In the event dungeon, the boss will deal strengthened attacks to all partners except for Kojirou. Please be cautious of this.
Upon completing the event, Kojirou will open her exchange shop, and you will be able to exchange for 7 of her scroll and also Mega Gacha Tickets.
There is a chance of obtaining the rest of her remaining scrolls from the clear rewards as well. There are 10 scrolls that you will need to obtain to unlock her awakened form.
Achievements for Kojirou's Redux event have also been added. They will be available from 20th June maintenance until the 4th of July maintenance.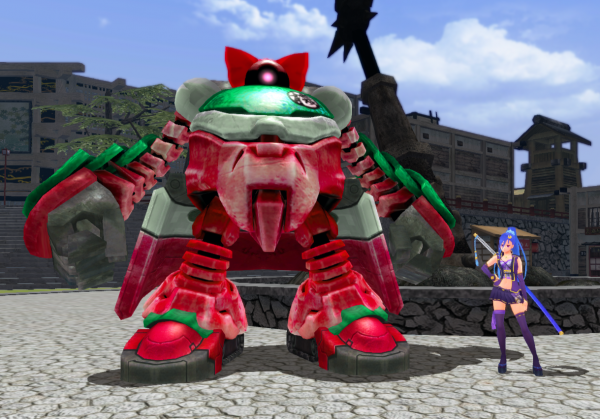 Event Login Calendar
In addition to the regular login bonus, a new log in calendar will be implemented from 6/21 12:00pm - 7/3 at 11:59am* in PDT.
You will receive a
Mega Gacha Ticket
each day you login!
Be sure to login every day and take advantage of this wonderful opportunity to win rare items!
These tickets are used the spin the Mega Nyankoropon and will be deleted during maintenance on 7/4.
*As per the Login Calendar's description, the daily reset time is 12pm PDT, not 12am.
Satan Event Details
The first wave of items in Satan Girl's Treasure Chest Nyankoropon have now finished, so we are introducing new items for you!
If you have completed Satan Girl's event, you can talk to her and spin for her mini accessory from the 2nd Treasure Chest Nyankoropon.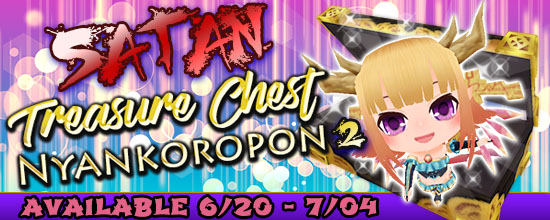 The Nirvana Tart can be found in The Wardings and traded with Satan Girl for great new items after completing her event quest.
Satan Treasure Nyankoropon 2:
After maintenance on the 20th of June until before maintenance on the 4th of July.
*Drop boost items will not affect the drop rate of the Nirvana Tart.
*Nirvana Tart will drop regardless difference between enemy and player level.
*Nivrana Tart will drop when a party member defeats an enemy.
*Nirvana Tart will not drop from a monster summoned by an enemy.
*The Treasure Chest Nyankoropon can be reset only once.
Nyankoropon
Normal Mega Nyan
Units 1 and 2 Normal Gacha are now Mega Nyankoropon!
The
Platinum Lineup
of both units features Sasuke, Kenshin, Shingen, and Valkyrie.
In the Gold Lineup of Unit 1, you will notice that new powerful Magatama are now available*!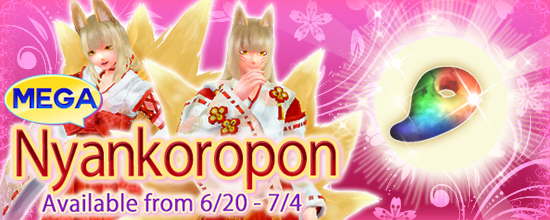 The Magatama available through the Nyankoropon can also be made by Kaguya. They will be unlocked depending on Kaguya's level and the material required are available from the Point Daruma. Please note that there are currently 2 of each material in stock, and they will be restocked each month.
The Gold Tier of Unit 02 feature the rare Heavenly and Gothic outfits as well as Kyuubi!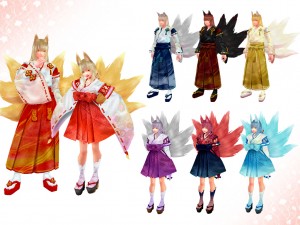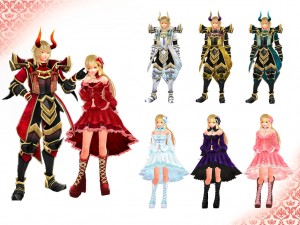 Mega Gacha Tickets will allow you to spin both of these units for free and are available through Sasaki's event and new login calendar (see details below).
Unit 04 has also been added to the Normal Gacha, and can be spun with a regular Gacha Ticket. This unit contains Tristan and Sanzou, as well as the school outfits in the Gold Tier!
Limited Mega Nyankoropon
A Limited Mega Nyankoropon featuring the same Magatama but at a higher win rate will also be introduced.
Limited Nyankoropon Conditions:
- Only paid Onigiri Coins may be used.
- All prizes have a Yorozu ticket attached.
*The Normal and Limited Mega Gacha will be available until maintenance on the 4th of July.
*Mega Gacha Tickets will be erased during maintenance on 4th of July. Please use them before the deadline!
Notes
- The Gawain and Tristan exchange shop and dungeon rewards have been removed, but Tristan and the quest will remain.
- The achievements for Gawain and Tristan have ended.
- The Parvus Gargoyle Dungeon is now time limited (available Wed, Sat, and Sun).
- The Satan Exchnage Shop and Treasure Chest 1 have been removed, but Satan Treasure Chest 2 has been added.
- The Welcome and Comeback, 15% Bonus, and Cumulative Campaigns have now ended.
- The discounted energy campaign has now became permanent. Energy will
always
be 10OC.
We thank you for your continued support,
-- The Onigiri Team