Greetings from the Onigiri Management Team,
In this update, we have made some minor adjustments and fixes to the game.
Update Contents
New Achievements
New Secondary Achievements have been added to the game! You can access them under menu > My Character > Achievements > Secondary.
For forging different weapons, you can now obtain prizes as a reward! Check to see if you have earned any!
Fever Time
Fever Time will be set to 50% from
00:00 on August 30th to 23:59 on October 1st
.
Look forward to increased EXP, Ryou, and drop rates! See
official event post here
.
Events and Campaigns
We would like to introduce the Midsummer OC Campaign that will help you get special bonus items with your cumulative OC purchases available from 9/12 - 10/10.
Unlike previous campaigns, you will be getting an additional package of prizes for your first purchase!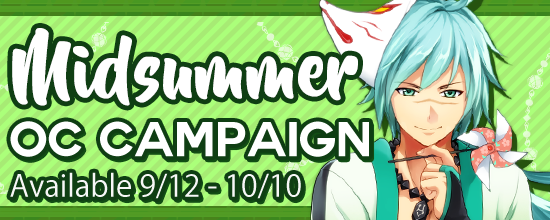 We also have a special
Discounted Nyankoropon
available from 9/12 - 10/10.
The Y
og-Sothoth redux event
will be running from 9/12 - 10/10!* Now is your chance to get some rare items you might have missed out on before!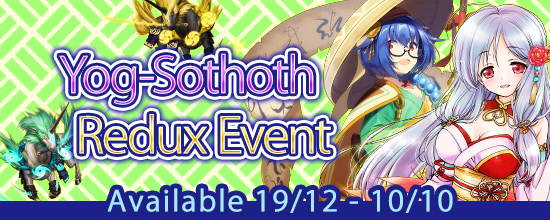 Sanzou's Redux Event has now been added to the game! You can speak with her in Onigashima to begin this event.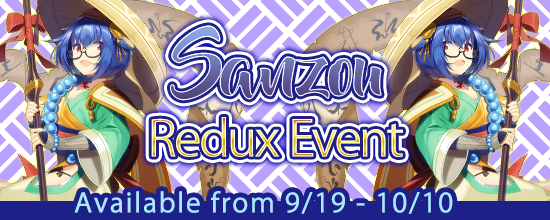 Closing Events
- The reduced energy cost and boost for the Blitz Tiamat Oni Mode Warding has now ended.
Patched Issues & Fixes
- The character voice bug has now been corrected.
- The 400% boost item descriptions have been corrected. The correct expiration date for them will be 10/17.
- Achievement descriptions have been corrected.
We thank you for your continued support,
-- The Onigiri Team