Greetings from the Onigiri Management Team,
We are adding the Setsubun Redux event and some minor adjustments to the game in this update.
Setsubun Redux Event
Earlier this year we had a
Setsubun Event
based on Japanese folklore, and we will be opening the redux dungeon for 2 weeks so you can obtain the partner Amanojaku!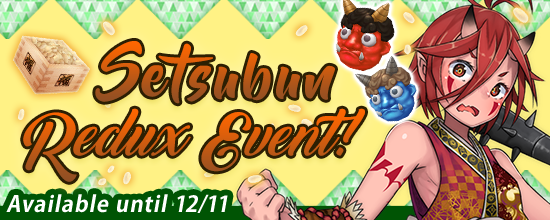 You can start this event by talking to Izuna in Onigashima. She appears to be in some sort of trouble!
*All stats besides weapon stats will be fixed within the even dungeons.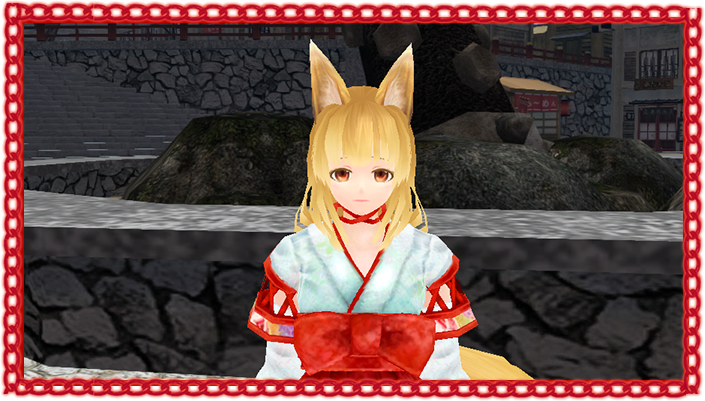 Once you advance the quest far enough, the NPC Namahage will appear and you can exchange items obtained from the dungeon with him.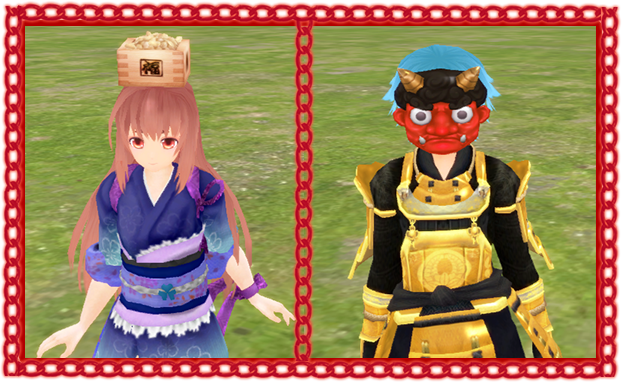 By clearing the the dungeon, you will receive a Summoner's Scroll - Amanojaku as a reward!
You can get 8 of the scrolls from Namahage's exchange shop, and also from clearing the dungeons with the ranks listed below.
Amanojaku Scroll Clear Reward Explanation
*The number of members in your party do not affect the drop rate of the scroll.
Onigashima Training Grounds - Setsubun (Oni): SS Rank, S Rank, A Rank, B Rank
Kishinden - Setsubun (Oni): SS Rank, S Rank, A Rank, B Rank
Wayward Shrine (Normal): SS Rank
Wayward Shrine (Hard): SS Rank, S Rank
Wayward Shrine (Hell): SS Rank, S Rank, A Rank
Kishinden - Setsubun (Oni): SS Rank, S Rank, A Rank, B Rank
The dungeon boss Amanojaku has the chance of dropping the following materials:
- Diamond Dust
- Aegis
- Lifespan Candle
- Horned Sculpture
- Retrograde Elixir
With the redux dungeon, we have changed the lineup of items that are available!
Items like Efflorescent Bud, Gacha Ticket Pieces, and Fallen Cross have all been added for your benefit, so please take advantage of this item exchange while it is available!
Additionally, the achievements for this event have been added as well!
*If you have cleared the previous event quest, no new quests will appear.
*Some of the items that were previously available in the item exchange are not available in this redux event.
*The achievement clear rewards Drop Boost +200% 30min -LTD-, Drop Boost +200% 60min -LTD- will be deleted during maintenance on 12/18. Please be sure to use them before then.
Event & Achievement
Available 11/28 - 12/11
Campaigns & Events
Katsuie is now available as a partner in the Nyankoropon!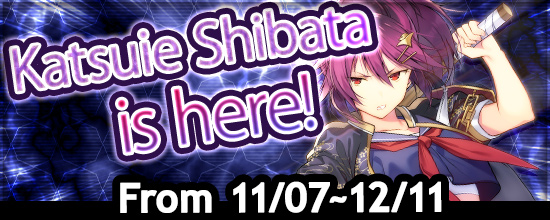 We have exciting an
OC Campaign and a 15% Bonus Campaign
running until 12/05!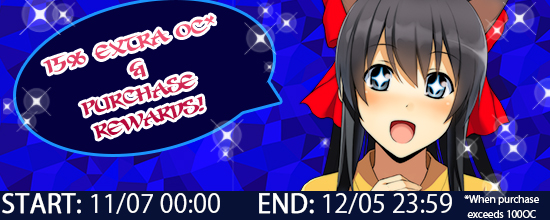 For a limited time only, we have a
Nyankoropon Spin Discount
!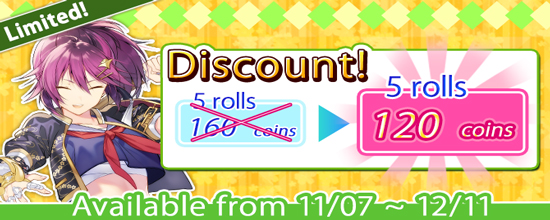 Known Issues
- Untranslated text shows up on items that are not exchangeable for points. This will be fixed in the next update!
We thank you for your continued support,
-- The Onigiri Team