Greetings from the Onigiri Management Team,
We are releasing the 3rd part of our Valentine's Day Event:
"The Sparkling Sakura Live - Kumaso Tour"
in this update!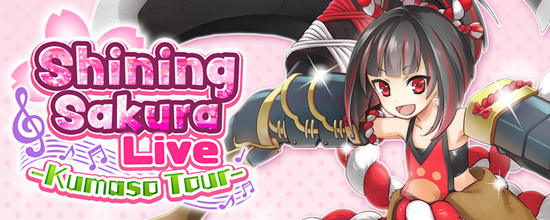 Update Contents
By talking to Kintoki in front of the metal statue in Onigashima, you can start the Valentine's Day Quest!
*Please note that you will need to have cleared the Kyoto Main Quest "Repairing Benkei" in order to begin this quest.
In this update, a quest to unite an idol unit of 5 members is now available!
After advancing the quest, you will unlock more items that will become part of the Item Exchange!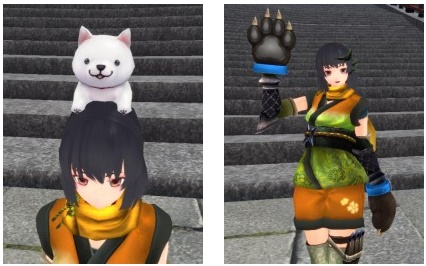 Yuzuri the Peddler's Item Exchange
You can obtain items such as Summoner's Scroll -Amanojaku-, Faithful White Shiba, Doggy Paw - Black, Doggy Paw - White, Chocolate Magatama and more!
Please note that if you have already purchased the max amount of Amanojaku scrolls, they will not be restocked.
About the Event Magatama
You can receive the following Magatama from the Exchange Shop using the drops from Chocolate Monsters:
- Chocolate Magatama
- Chocolate Magatama Lychee
It is possible to sell these items in the stalls.
For the above-mentioned Magatama, against certain monsters there will be a buff attached that increases the damage dealt against other enemies called "Monster Buff".
When multiple Magatama are equipped with the "Monster Buff" effect, the Magatama in uppermost slot's effects will be in affect.
*Under the SP Gauge's Icon, the Monster Buff Icon will be displayed when it is not in effect.
Event Monsters
We heard that you like chocolate, so we have decided to release white chocolate monsters just for you!
Be sure to look for both White Chocolate Tiamat and Odin in Izumo!

- All attacking players are eligible to receive a drop.
- Ignoring the defense of the player, damage is dealt proportionally.
- Part of the event monster's HP Gauge will change colors in gradation as it is depleted (shown below).
- Event monsters will take some time to spawn and respawn. Please be patient and defeat the other chocolate monsters to collect drops as you wait!
Everyone work together to fight the chocolate and white chocolate monsters!
Please note that some behaviors and positions of monsters have been changed in the fields where the event is taking place, but they will return to their normal behavior after this event. Some event monsters will not attack unless you damage them first.
As previously noted, by defeating the enemies, you can obtain "Mild Cacao" and "High Quality Cacao" to use in the item exchange!
In order for the white chocolate monsters to spwan, you will need to have gathered all 5 of the Shining Sakura members by playing through the event in our latest updated!
Event Duration
Valentine's Day Event and Drops: 2/27 - 3/26
Exchange Shop: 2/27 - 4/2
Nyankoropon
The current
Spring Dawn Lineup
will be extended for one more week until 3/19!
Please look forward to more exciting new content coming next week!
Campaign
- We are holding a new
Spring Dawn OC campaign
this month with very helpful gifts rewarded for each cumulative tier that you reach! This campaign has been extended until 3/19 before maintenance!
Notes & Closing Events
- Some event monsters have had their behaviors adjusted.
- When using the functions "Use", "Discard", "Deposit how many?", you can now select 4 different rows of items.
- In the Kyoto field, Shuten-douji's position has now been changed.
- The Gratitude Gala event and achievements have now ended.
- The New Year's Youkai event has now ended, but the exchange shop is available for an additional event.
We thank you for your continued support,
-- The Onigiri Team