Players,
Many of you are familiar with
Kaguya's Magatama Ornamentation
ability that becomes available as you progress through the story.
This ability will enhance the current Magatama you own with additional bonuses and effects if you bring the required materials and having the correct amount of purity.
Today we would like to introduce some all new ornamentation options for players to increase their Magatama strength!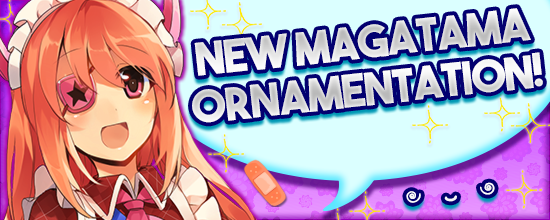 New Magatama Ornamentation
By talking to Kaguya, you will now have access to the following ornamentation. Please ensure that your job level is 9 or higher to access them.
Added Ornamentation:
- Crosswise
- Mushu-fushu
- Jabbawock
- Maze
- Omega
- Solomon
Please try them out and see which ones that suit your character's build the best. Happy Magatama decorating~
-- The Onigiri Management Team