Players,
Happy Summer! In this update we would like to introduce the new dungeon difficulty: "Oni", new partner outfits, and also give you Sakura as a free partner character as well as a Kijimuna accessory!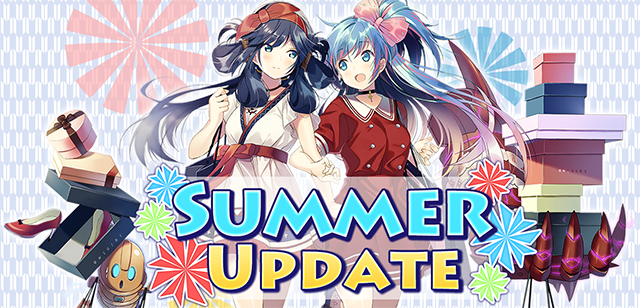 Please see our special
Summer Update website
for a synopsis of what content has been added.
Special Gacha
This week we would like to introduce the
Special Gacha
tab to the Nyankoropon!
This tab which will let you spin the Limited Nyankoropon and the Legendary Nyankoropon for rare partners, items, and Sublime Ougis!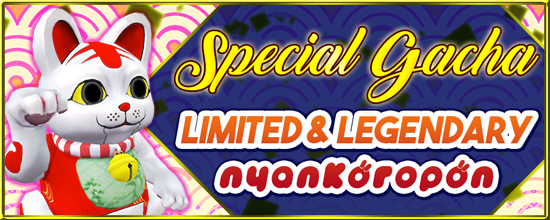 The Limited Gacha (available until July 26th) can be spun with OC, and will help you collect Torn Legendary Gacha Pieces to assemble a Legendary Gacha Ticket. After the 26th, the lineup of the Limited Gacha will change.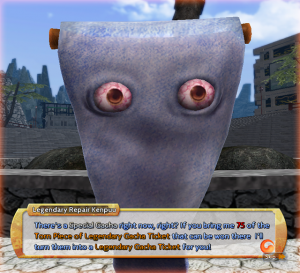 If you collect
75 Torn Legendary Gacha Pieces
, and talk to Legendary Repair Kenpuu in Onigashima plaza, you will be able to access the "Legendary Gacha" tab in the Nyankoropon!
Unit 01: Limited Nyankoropon (until July 26th)
In the Platinum Lineup, you will have access to Sakura's Summoner Scroll to unlock more of her abilities.

In the Gold Lineup, you will be able to obtain the "Sublime" versions of the following Ougis for each weapon:
- Ougi True Spirit Blast
- Ougi Crimson Flame Blast Smash
- Ougi Rock Shattering Strike
- Ougi Tidal Wave
- Ougi Thunder Beast
- Ougi Restriction
- Ougi Fuujin/Raijin
- Ougi Nether Illusion Trap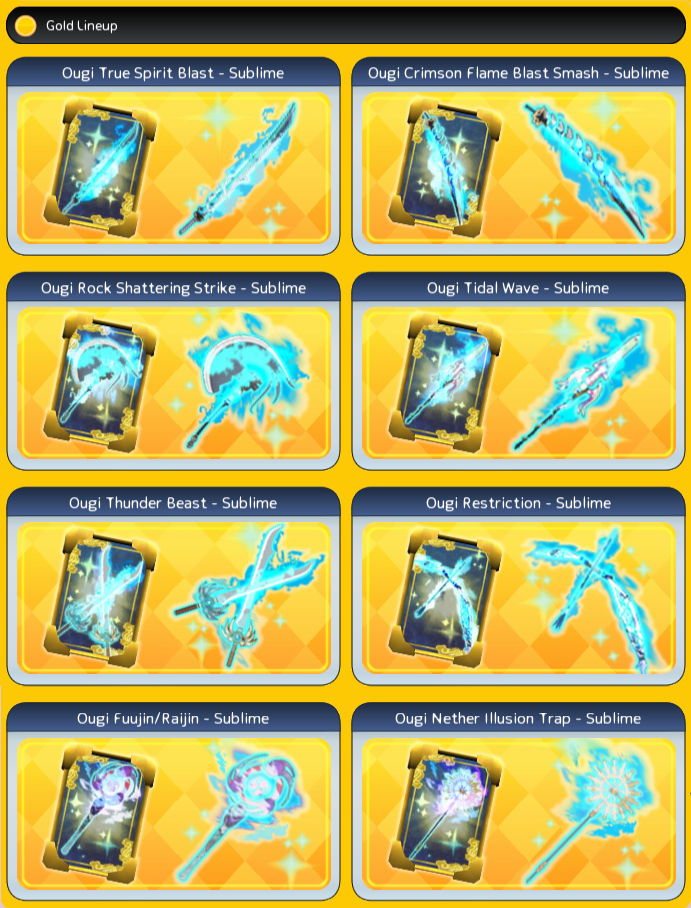 The Sublime Ougis are currently the strongest available and the only way to obtain them is through the Special Gacha!
Unit 02: Legendary Nyankoropon
After assembling a Legendary Gacha Ticket, you can spin for one of the following partners:
- Asura
- Musashi Miyamoto
- Dark Miyamoto Musashi
- Lunastasia
- Lunastasia Red Moon
- Sarutobi Sasuke
- Himiko
- Izuna
- Venus
- Siegfried
- Valkyrie
- Ivys
Please click the thumbnail below to see them all: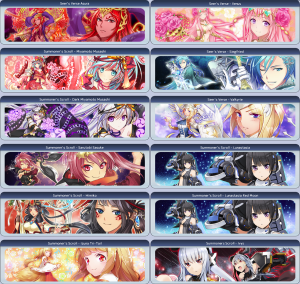 Don't forget about our
Premium Nyan Campaign
and
15% Bonus OC Campaign
that are currently running to help you get the most of your purchases!
New Dungeon Difficulty Level: Oni
In addition to the regular difficulty settings of "Normal", "Hard", and "Hell", we are happy to introduce: "Oni".
If you choose to challenge this difficulty level, please be aware that there are rules for the dungeon and that as this difficulty is aimed at experienced users, a portion of your abilities and stats will be restricted in order to make it challenging.
In order to challenge this difficulty level, Normal, Hard, and Hell must be completed first. Shortcut portals to these dungeons have been installed near Kiichihougen in Onigashima.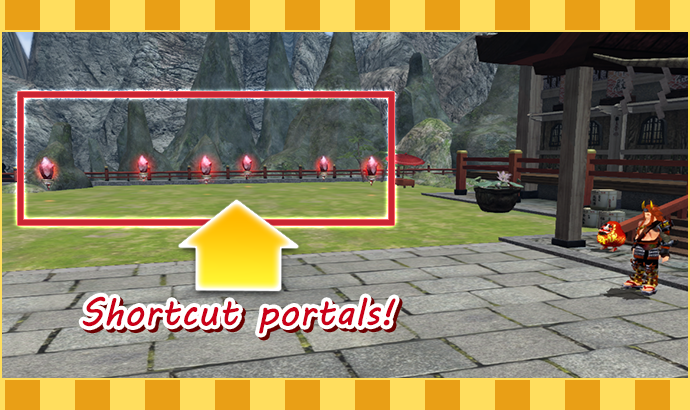 For clearing a dungeon on the "Oni" difficulty level, you will receive one of the following medals of honor to keep as a symbol of your achievements or to trade for prizes as you see fit:
- Zenith Medal: First Class
- Zenith Medal - Second Class
- Zenith Medal - Third Class
Pssstttt!
Speak to Yoshitsune when you have a few to see if there is anything new floating around in Weapon Smithing~
The following dungeons have had an "Oni" difficulty level added:
- Yomotsuhirasaka
- Mount Kurama
- Netherworld Space
- Central Koshi-no-Shiraen
- Sado Mine
- Lamenting River: Headwaters
Special Partner Outfits
The new outfits worn by Himiko and Musashi in the latest
wallpaper
are also available for purchase in the Shopping Plaza for 300 OC and come with the following items: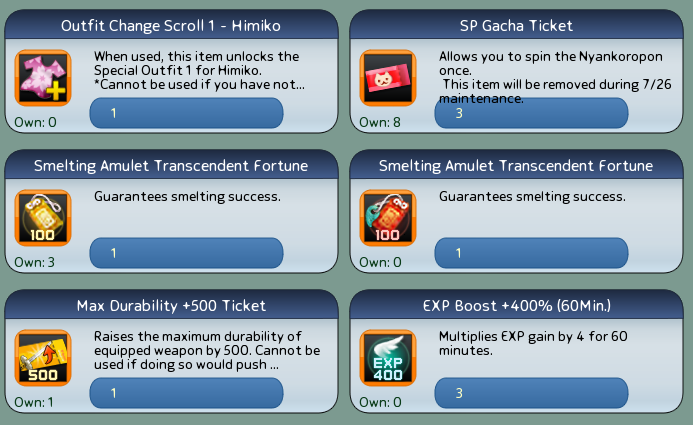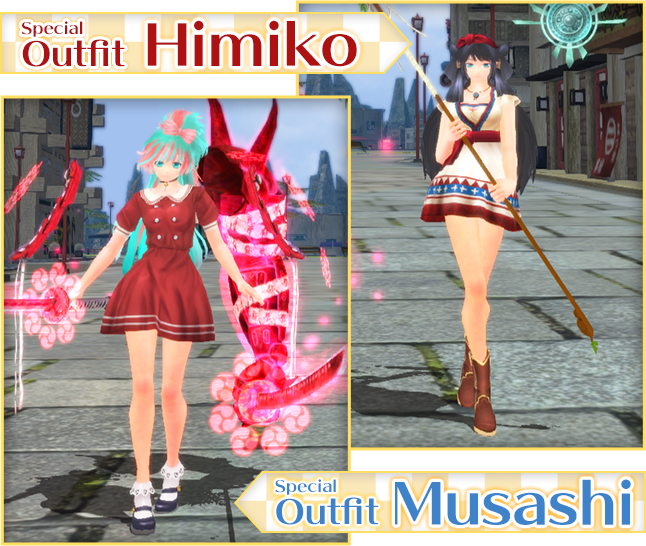 Note:
Outfit Change Scrolls can only be used on characters whom you have already unlocked and must be bought with OC you have purchased from the
Onigiri website
.
Sakura and Kijimuna Accessory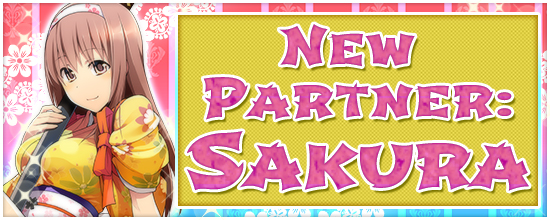 Meet Sakura, the default female protagonist of the game and Onigiri anime! She is an Oni just like you who is now available as a free partner!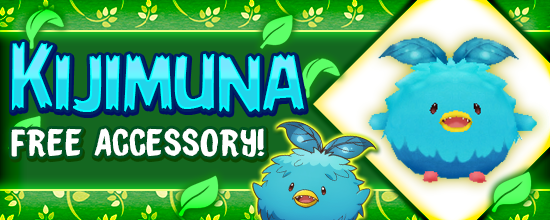 We are also giving out a fluffy Kijimuna accessory to all players!
Be sure to check your present box (Menu > System > Present) to receive the Sakura Summoning Scroll and Kijimuna accessory.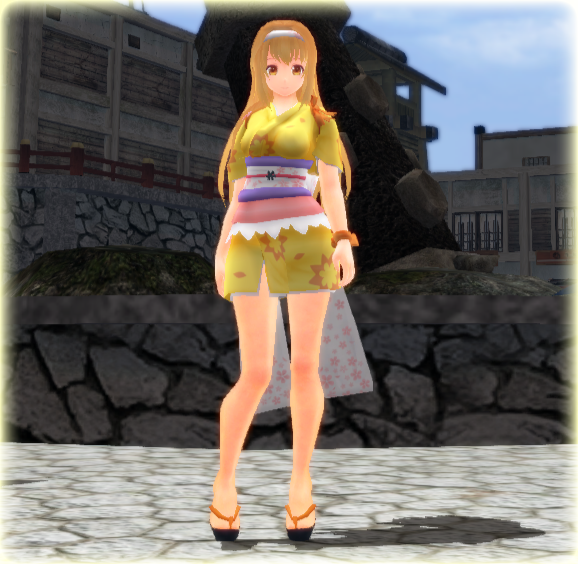 Notes
A number of gameplay balance and bugfixes have been added to the game, including enemy hit rate and speed, weapon class damage, and sake modifications. We have also fixed the guard bug.
Please see the "Gameplay Balance" section of our Summer Update website for the detailed list of these adjustments.
- The "star" rating system of dungeons has been revised.
- The highest number of hit a combo can land has been raised from 8 to 10.
- The energy system for wardings has been changed, as have restoratives (1 -> 10)
- The Ougi skill available for change by default when you first unlock Asura has been changed from Carnage: Divine Fist - V to Ougi Carnage: Karma Blade Clash - V.
* The compensation for the balancing down in this maintenance will be sent out during next week's maintenance.
We thank you for your continued support.
-- The Onigiri Team