7/12 Update Contents

Posted:
13 Jul 2016, 01:13
Players,
We hope you have been enjoying the
Summer Update
from last week.
Game Rebalance Present

To compensate for last week's gameplay balance (viewable through the above link), we are giving out a special present to all users: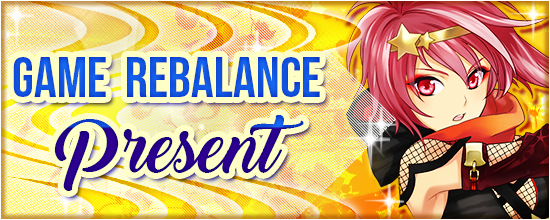 *Please note that you can only accept this gift on one character per account and will expire 8/11/16:
- 1x Status Reset
- 3x Full Energy Restorative
- 1x Platinum Premium Boost Ticket (7 Days)
The Platinum Premium Boost Ticket grants the following for 7 days: EXP/Ryou gain +30%, 20 extra inventory slots, restore item usage speed +30%, 1 extra Dungeon Continue.
Be sure to check your present box (Menu > System > Present) to receive these items. We hope you put them to good use!
Notes
- Ivys has left the normal Nyankoropon, but her dungeons are still available to challenge in Onigashima.
- Red Moon Lunastasia has left the normal Nyankoropon. - The materials from the Grove of Despair are now only receivable from drops, instead of dungeon clear reward.
- The double win rate for Asura in the Nyankoropon has been removed (he now has a regular win rate).
We thank you for your continued support.
-- The Onigiri Management Team